Platform for online events, events and conferences
an online space full of possibilities where you can create engaging and inspiring events.
Essential functions and innovative solutions – all in one place.
Fill the Brief
New dimension
online events
For us, an online event is not just streaming, it is a multidimensional space enabling interaction between the stage and the audience, audience and stage and, what is most important, between the participants. We have created a universal tool from scratch, especially for large events. We focus on events where knowledge transfer and where communication and networking are key – at congresses, conferences, presentations and fairs.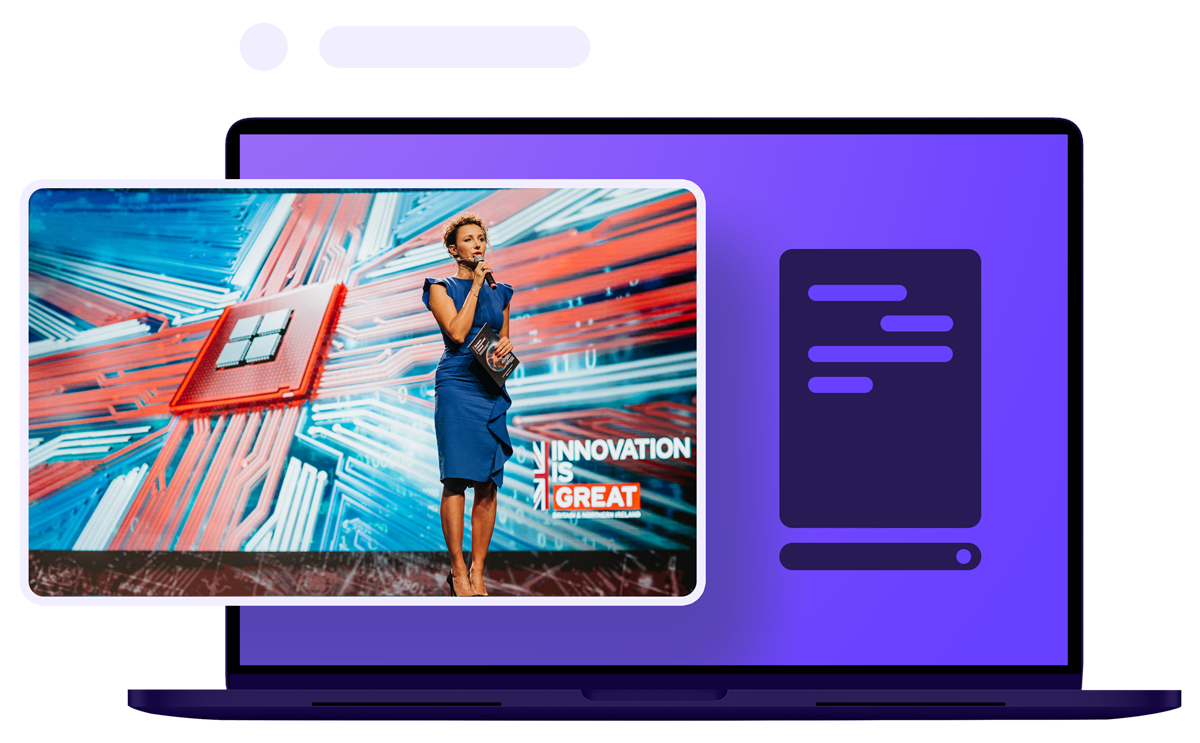 Conferences
Organize meetings for professionals, events for discussion and mutual consultations.

Congresses
Create an opportunity to meet up to several thousand specialists and enthusiasts.

Webinars
Share knowledge, share experience and build a community around your brand.

Product launches
Promote your brand and present your products effectively. Involve the audience in the event and be remembered.

Concerts
Reach thousands of audiences and create long-talked about music events.

Cultural events
Organize events that not only delight, but also inspire and convey emotions.
Main functionalities and zones

Landing page of the event
information about the event

agenda

speakers

partners and sponsors

Foyer
welcome and navigation zone

the possibility of transition to a variety of activities

space for an advertising banner

welcome video

Registration of participants
flexible registration forms

dedicated and editable GDPR and marketing consents

integrated payments

Live scenes
HD streaming

public and private live chat

Q&A panel

remote connection

dedicated visual identification

EXPO zone
virtual map of the fair

dedicated stands and exhibitor zones

live chat communication and video chat

contact forms

live from hybrid stands

sales integration

precise analytical data

Live scenes
themed rooms

1: 1 meetings

Sponsors and partners
dedicated statements

individual sponsorship zones
Over in our portfolio!
200 events
We understand that there is no substitute for direct interpersonal interactions and the power of a personal meeting. However, we want to help the organizers maintain commitment and relationships with listeners, customers and partners. The world of events evolved and so did we. Changing the form does not change the goals that we want to achieve together with you and for you.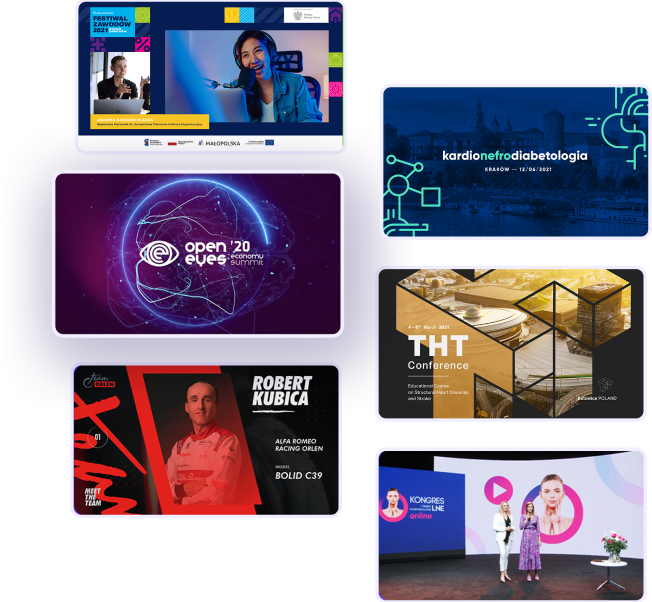 Lots of benefits for organizers
Wide portfolio
Over 100 implementations in 2020 and over 1 million views of the platform.
Over 1 million views
So many people used our event platform.
Local organizational support and IT
We support you at every stage of the project – from preparation to implementation.
Any branding
Virtually every element of the platform is modifiable.
Flexibility
The platform is ready for changes tailored to your needs.
Individual implementations
We approach each client individually.
Full compliance with the GDPR
All personal data is stored and processed in accordance with EU regulations.
Responsiveness on mobile devices
The platform and the events taking place there look good no matter what device you are using.
No installation required
The platform can be used directly from the web browser window.
VOD after the event
Share video and other content after your event.
24/7 technical support
We constantly watch over the success of your event.
Integrated payments
Your guests can now pay to attend the conference or for other activities.
Security
The security of the platform is confirmed by independent auditing companies.
Language versions
The platform is available in several language versions.
Changing the form does not change the goals that we want to achieve together with you and for you. Our event had its own professional and functional website, where participants could actually communicate with each other, teach and inspire each other without any barriers.
This was our first adventure in organising an international event in an online format. Despite many misgivings, the 9th International Blueberry Conference, organised in collaboration with WydarzeniaOnline.pl was a success. It was broadcast to participants from 37 countries around the world, with a total of 650 registered participants. The online format proved to be a window to the world for our Conference, and the efficient organisation of the event helped to maintain the high level and brand of the event.
An event moved to the online space is a great opportunity! With the right tools, geographical barriers or time differences actually cease to matter much.
See how our platform works